We were honored when an avid pool player entrusted us to design his lower-level billiards hangout. While we certainly wanted to set the perfect stage for his friendly competitions, we also wanted to create a space the whole family could enjoy. Our plan accomplished both objectives, we believe. Read on to see if you agree.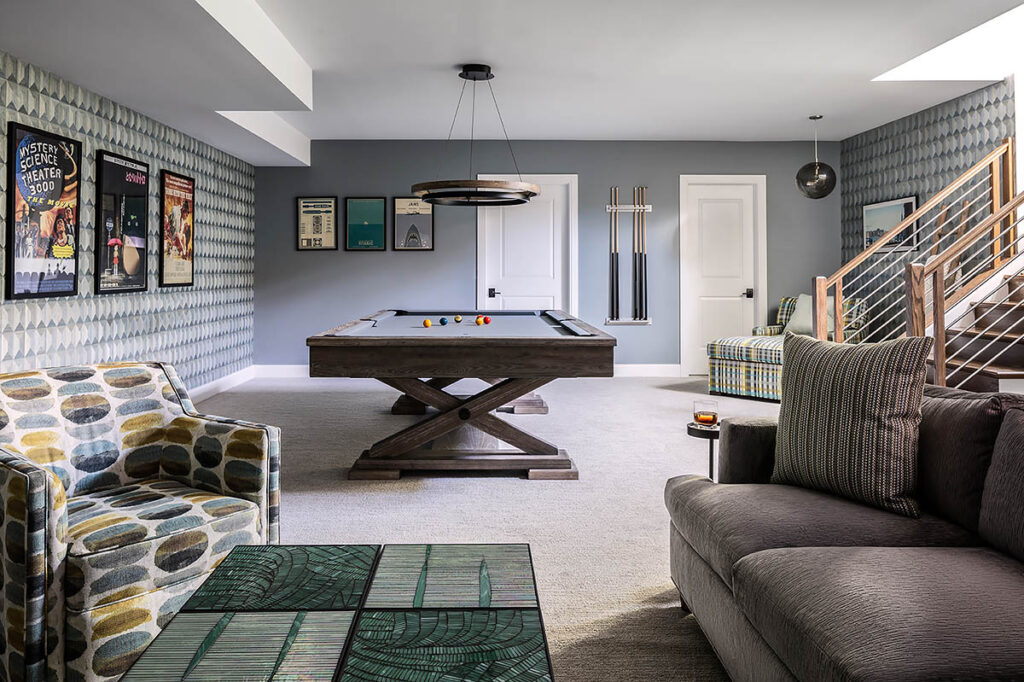 Billiards Hangout Design Brief
Our clients are an Arlington couple, who now have two young children. They purchased a contemporary-style new build a couple of years ago and asked A. Houck Designs for help with their lower level after seeing a billiards room design we had recently completed.
The pair requested a clean, modern aesthetic that would complement the exterior and interior architecture of the house. But they were eager to have some fun with the design too,
Setting the Stage
The lower level was largely a blank slate, with neutral walls and carpeting. The few existing details, including the streamlined staircase, leaned somewhat industrial. Also in place was a built-in wet bar featuring metal shelves against of backdrop of distressed wood planks. We ultimately added Visual Comfort glass pendants to complete that area. All in all, we had a good starting place!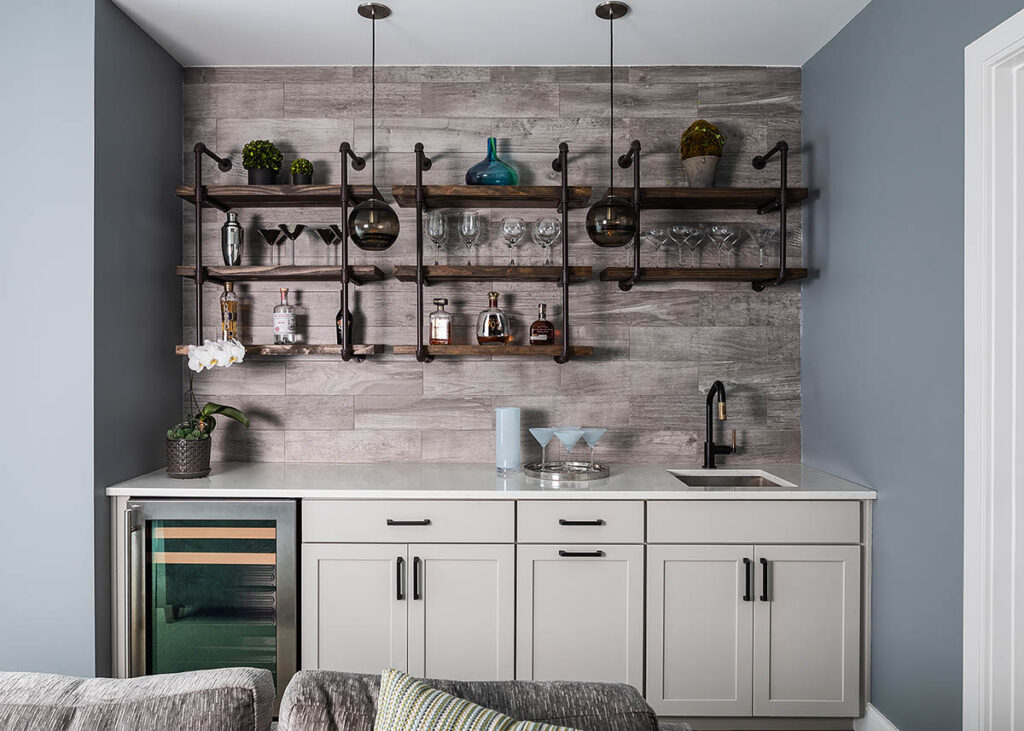 At 609 square feet, the space is fairly large. To add some dimension and break up the sea of drywall, we installed Phillip Jeffries Coffered Wood wallcovering on two walls. Here's a detail shot:
This product uses authentic wood to create a geometric look. We selected a color way called Manoir, which is the French word for manor house. I suppose the hue is meant to recall the weathered wood and stone you would find on an old estate in the countryside of France? Whatever the inspiration, it's beautiful! The other two walls are washed in a custom blue-gray shade that I had mixed, using Benjamin Moore paint, to blend beautifully with the wallcovering.
Party + Pool Room
Given the room's generous dimensions, we were able to create a multi-purpose billiards hangout. Our plan includes a seating area/TV-watching zone at one end of the space and the billiards zone at the other. We also created a reading nook and toy-storage area in the niches on either side of the stairs.
With the existing bar, it's the perfect entertaining space, but it also sustains the family's daily life.
Billiards Zone
The husband had his sights set on Brunswick's Brixton pool table, which is available through Blatt Billiards. The Driftwood finish marries well with the other wood finishes in the space.
We installed a 30-inch circular chandelier, designed by Sean Lavin for Visual Comfort's Modern Collection, over the table. It combines matte-black metal with weathered oak.
Finally, our clients' collection of framed movie posters adds personal meaning to the billiards zone.
Hangout Zone
For a couple with two very small children, it was important to have a comfortable family hangout area on the lower level too. With a big TV, of course.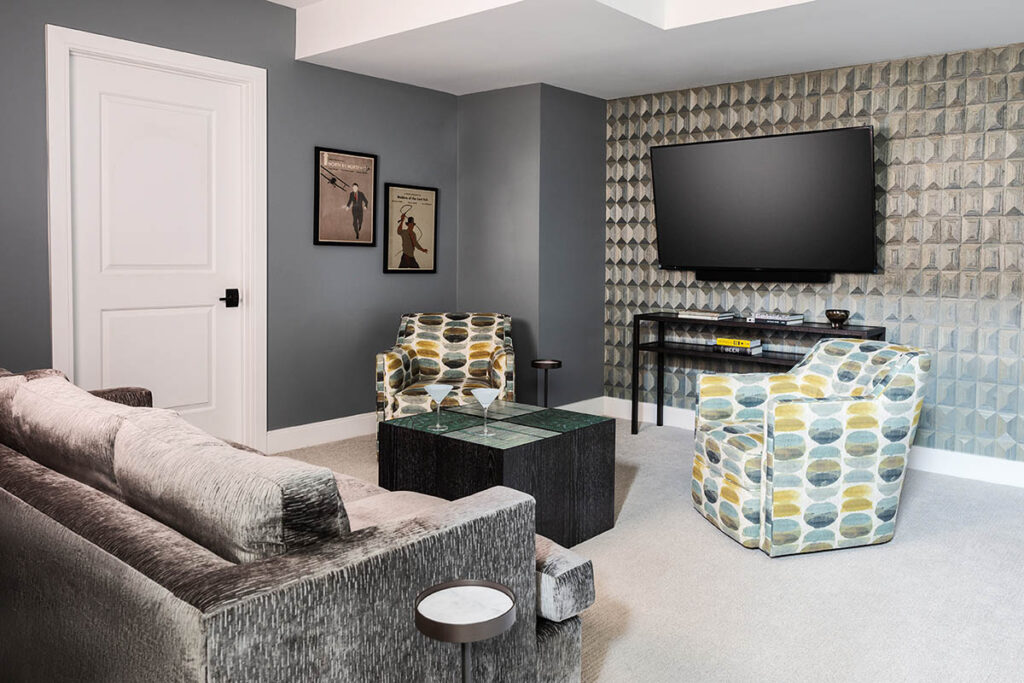 The seating zone combines a Hickory Chair sofa with two swivel chairs from Ambella Home. The bold, painterly print covering the chairs is a durable fabric from Materialworks. The console under the TV is from one of our favorite vendors, Michael James Furniture.
However, a grouping of four tables from Ercole Home serves as the pièce de résistance. The tables are truly works of art!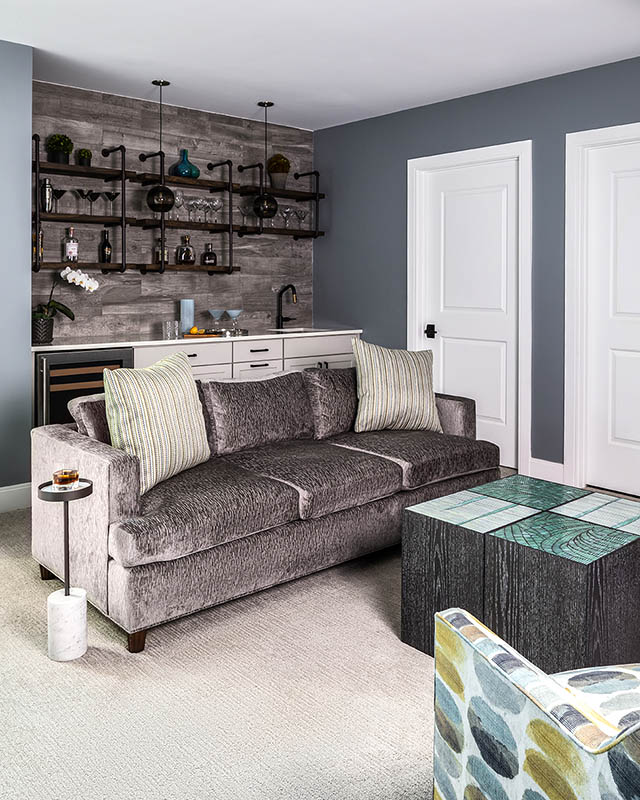 They feature hand-cut glass mosaic tops. We opted to do two different mosaic patterns (a pair of tables in each design) — Plume and Sycamore. In a bespoke process, we were able to select the tile and grout colors, along with the wood finish.
I'm obsessed with the finished products! They add so much personality to the space.
Bonus Reading Nook
This billiards hangout is designed primarily for playing pool, entertaining and watching TV. For quieter moments, we tucked a reading nook into one corner.
A chaise lounge provides the perfect perch for snuggling up with a good book — or enjoying the action around the pool table. It's covered in a bold Romo plaid. A Visual Comfort glass pendant overhead provides the requisite lighting.
Ultimate Billiards Hangout
This lower-level design resulted in a billiards hangout that offers something for everyone in the family. As the kids get a little older, I'm sure they'll be playing down there a ton, too (as long as the steer clear of Daddy's pool table for now).
It's a cool, contemporary space — befitting the young family and the home's architecture. And it's in stark contrast to that other billiards room project that initially caught these clients' attention. Here's a throw-back to that more transitional space.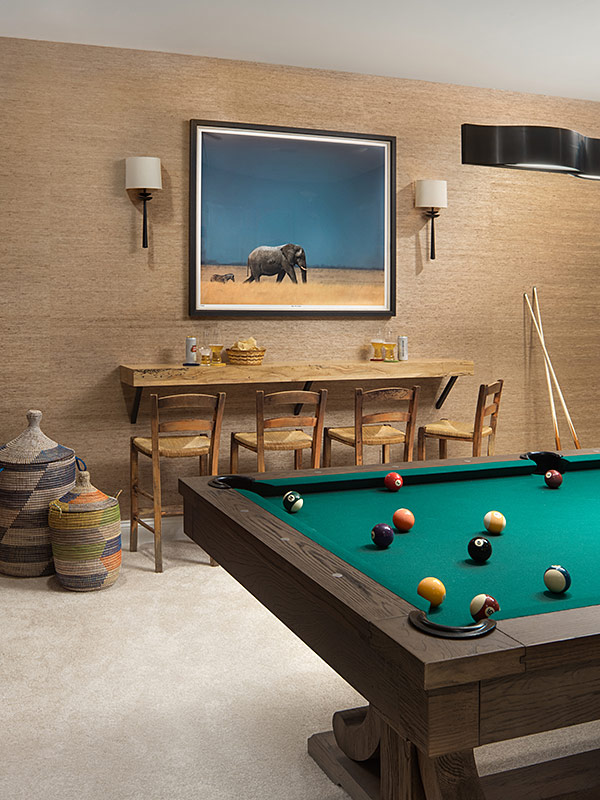 That lower level started as a blank slate too. It proves, once again, the power of design to transform a space, whatever the clients' tastes may be. If you're looking for a billiards hangout or just a fun lower-level gathering space, contact A. Houck Designs.